Infographic: Four training modalities to improve functional mobility in people with Parkinson's disease
Keywords:
Dance, Hydrotherapy, Pilates, Treadmil, Mobility, Parkinon's disease
Abstract
Impairment of functional mobility is one of the most disabling symptoms in people with Parkinson's disease (PwPD). Limitations in mobility lead to sedentarism, which may decrease the quality of life in PwPD. Several studies demonstrated that the combination of exercise with the traditional pharmacological treatment (i.e., levodopa) is effective to improve mobility in PwPD 1-5. Although the effects of traditional modalities (e.g., walking overground and cycling) are well documented, other stimuli may also induce positive responses on mobility in PwPD. However, such studies demonstrated trivial results or effectiveness in terms of functional mobility, indicating that the exercise – mainly using non-traditional stimuli – should be carefully prescribed. To avoid practical mistakes and ensure a high probability of success in mobility rehabilitation in PwPD, rehabilitation professionals must apply up-to-date and high-quality knowledge about mobility. Also, they must recognize the effects of different exercise modalities to improve functional mobility and the motivators and barriers to exercise in PwPD 1. This infographic aims to present (1) the motiving factors and barriers of training in PwPD, (2) the main effects of four exercise modalities on functional mobility (considering its underlining mechanisms), and (3) demonstrate the training evidence to improve the functional mobility.
The exercise modalities were selected from the four recent meta-analyses (searched on PUBMED) that tested the exercise effects on functional mobility and presented data related to exercise prescription for PwPD. The encouragement of other persons is the most motivating factor for PwPD during exercise. The lacking of encouragement, fatigue and depression are related to exercise barriers in PwPD 1. Suárez-Iglesias et al. 2 demonstrated that Pilates was effective to improve functional mobility, improving Timed Up and Go (TUG) performances. Interventions using hydrotherapy, with or without land-based therapy, also showed positive effects on TUG values 3. Dance modality, associated with auditory cues, promoted positive effects on gait velocity, TUG, and freezing of gait 4. Finally, Robinson et al. 5 observed that treadmill training, when compared to no-exercise ones, improved the gait velocity and step length in PwPD regardless of use or not body weight support. Overall these results were observed in patients with early to moderate stages of disease (Hoehn and Yahr < 3). These main effects and the mechanism related to the positive responses were presented in the infographic. 
Despite the noteworthy positive effects of exercise using these modalities in PwPD, recommendations for training prescriptions are still debatable. The characteristics of the modalities were poorly described in most of the studies. For example, even with the availability of acceptable and practical tools, the exercise intensity or its increment throughout the training was not properly reported. Therefore, it is difficult to determine a specific guideline to improve functional mobility in PwPD. The discussion about prescriptions (hydrotherapy) and the program with the highest weight in the meta-analysis (dance, pilates and treadmill) were presented in the infographic. Future studies should detail, as many as, possible training characteristics, increasing the reproducibility and applicability of the results.
Downloads
Download data is not yet available.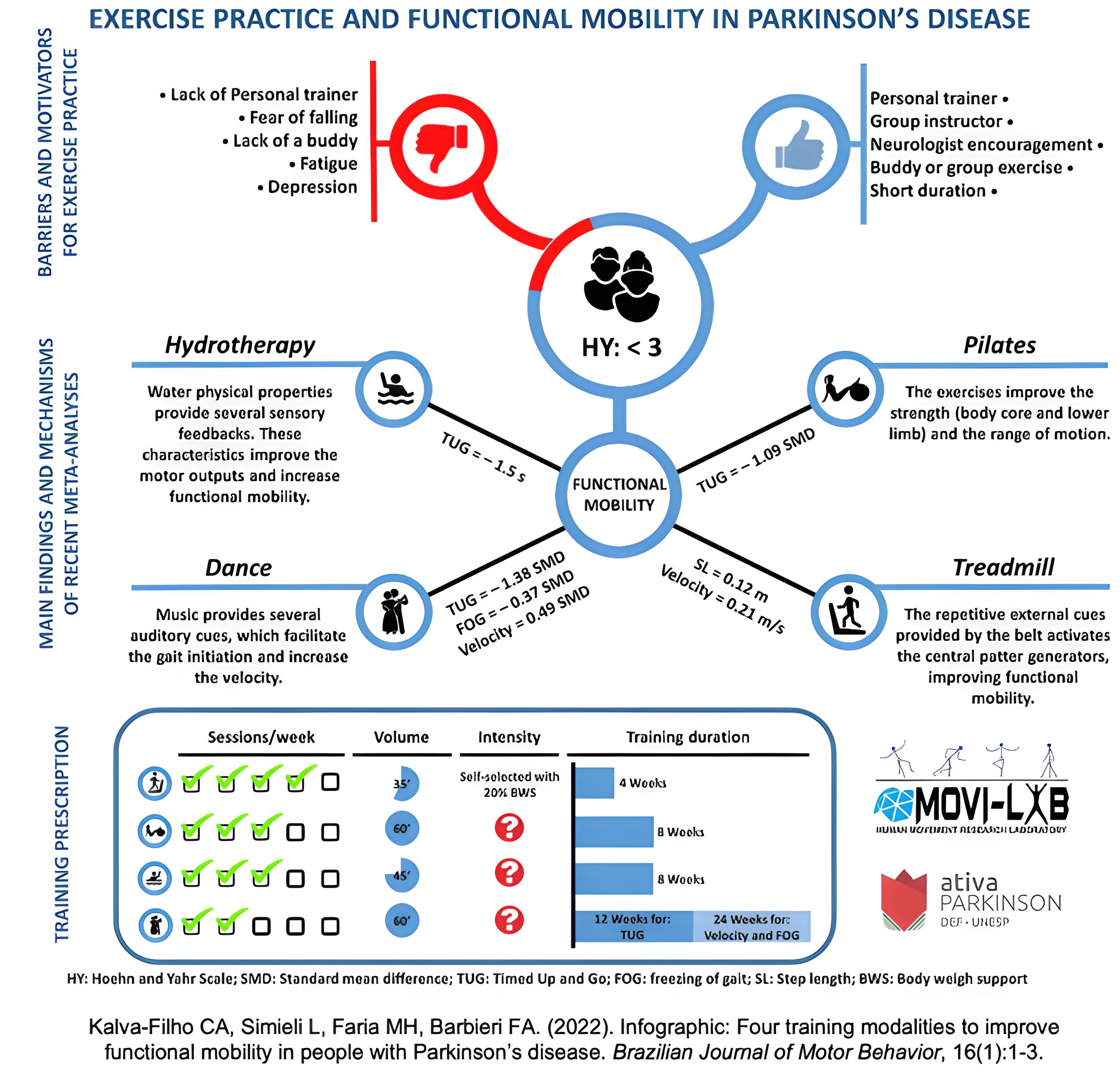 How to Cite
Kalva-Filho, C. A., Simieli, L., Faria, M. H., & Barbieri, F. A. (2022). Infographic: Four training modalities to improve functional mobility in people with Parkinson's disease. Brazilian Journal of Motor Behavior, 16(1), 1–3. https://doi.org/10.20338/bjmb.v16i1.284
License
Copyright (c) 2022 Carlos A. Kalva-Filho, Lucas Simieli, Murilo H. Faria, Fabio A. Barbieri
This work is licensed under a Creative Commons Attribution-NonCommercial-NoDerivatives 4.0 International License.
Authors must declare that the work submitted is their own and that copyright has not been breached in seeking its publication. If the manuscript includes work previously published elsewhere, it is the author(s) responsibility to obtain permission to use it and to indicate that such permission has been granted.
Authors retain the copyright of their paper and grant the Brazilian Journal of Motor Behavior (BJMB) the right to first publish the work under a Creative Commons Attribution-NonCommercial-NoDerivatives license (CC BY-NC-ND). This license allows users to share the paper given the appropriate credit to the author and source and does not allow commercial uses and derivative materials to be produced.